At under $200, Huawei's U8150 Ideos Android smartphone was just too good a price to resist; I'd been wanting an Android phone for a while, mostly for development, but also as a portable internet device. And at just 102g, it was lighter than my current Nokia – I had to have it.
That was four months ago. So, how has it panned out?
The U8150 is great for casual use – reading twitter on the train, casually browsing Facebook on the web and so forth. But that's not to say that the phone is without shortcomings.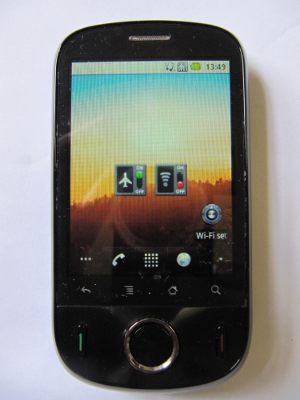 For the price, it's not a bad looking phone. It came with a choice of interchangeable back covers – one in blue, one in yellow, and I've heard that some releases in other countries also include a pink cover. Ultimately, at this price range, that seems pointless and wasteful, and it would have been better to save a bit of money and just provide a single black backing plate.
There are seven buttons on the front – the green accept call button, the red cancel call button, a select / cursor control, and then the standard four Android buttons,positioned in this order: Back, Menu, Home and Search. The Android buttons are flat-panel buttons, located under the same piece of plastic as the screen, and need to be pressed firmly to respond – this can sometimes be annoying. There is an up/down volume control on the left-hand side of the phone.
The U8150 is a great size for portability – just 13.5mm thick, 103mm long and 55mm wide, so it easily fits in your pocket. The downside to this is that it makes it very difficult to type on, when held vertically. Anyone with big fingers is going to struggle on this phone, although turning it on its side helps a bit.
With a 528 MHz ARM 11 processor, it's certainly not a particularly fast phone; you do need to keep an eye on the number of applications that are running at any given point in time, or you'll find it gets sluggish very quickly. On more than one occasion, I've wanted to bring a hammer down on it when an application decides to hang for twenty seconds on startup, as a result of switching between apps frequently.
Touch response is quite reasonable – the capacitive touchscreen responds well to swipes, icon dragging, button presses – but again, when the phone is busy, the user interface tends to lock up, which can be frustrating.
The screen itself only has a resolution of 320×240 – but then, with a phone of this size, what are you possibly going to do with anything higher than that? My primary criticism of the screen is that it's really difficult to see in bright sunlight, making the phone almost useless for outdoor use.
Battery life when idle is quite good; I've left the phone running for several days without using it, and the battery has been barely depleted. Any even moderate 3G use of the phone, however, will use the battery up rapidly – requiring it to be charged every day.
Huawei have provided a 3.2MP camera in the Ideos, but there isn't a flash, so it's fairly useless at night. Daytime pictures are reasonable, which surprised me – I wasn't really expecting much at all. Videos taken with the camera are as you would expect from a phone of this price range – fairly grainy.
Where the phone does excel is as a media player – the sound is good, even from the built-in speaker, and the embedded FM receiver is possibly one of the most sensitive I've come across in any phone, and was able to pick up even stations with fairly low signal strength. Sadly, the radio either doesn't have any support for RDS or the software isn't capable of decoding it, yet. Due to the phone's low-end CPU, it is only able to play back videos mp4/h.264 videos, which it has hardware support for, but it does a reasonable job on these.
The phone comes in two models: one for the European / African / Asia-Pacific market, which has UMTS support in the 2100MHz and 900MHz bands, and one for the American market, with UMTS 850 / 1900 / 2100 / 1700 support, so it won't be ideal for a round-the-world world traveller.
The wifi works well, although I did notice one niggly issue – despite owning a European/Asian model of the phone, it doesn't have support for wifi channels 12 and 13, which are perfectly legal to use, outside of the US. I don't know yet whether this is a hardware or software issue. A handy feature is Android's built-in wifi hotspot ability, which means you can share your phone's internet connection with a PC, wherever you have 3G access.
In all, for the price, Huawei U8150 is a good phone. I wouldn't recommend it to a business power-user or someone who wants to play games, but as a casual, portable internet device, it's pretty good.